Images / Text Resolution problem
<!—[if gte mso 9]><xml> <w:worddocument> <w:view>Normal</w:view> <w:zoom>0</w:zoom> <w:donotoptimizeforbrowser /> </w:worddocument> </xml><![endif]—> <!— /* Style Definitions */ p.MsoNormal, li.MsoNormal, div.MsoNormal {mso-style-parent:""; margin:0in; margin-bottom:.0001pt; mso-pagination:widow-orphan; font-size:12.0pt; font-family:"Times New Roman"; mso-fareast-font-family:"Times New Roman";} @page Section1 {size:8.5in 11.0in; margin:1.0in 1.25in 1.0in 1.25in; mso-header-margin:.5in; mso-footer-margin:.5in; mso-paper-source:0;} div.Section1 {page:Section1;}—> I used In Design, then I flat the images and the text in Photoshop so it's all 1 image. When I drag my (resolution 300 .jpg) pages in to book smart it turns them in to low resolution, example below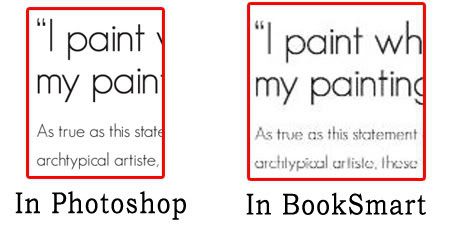 <!—[if gte mso 9]><xml> <w:worddocument> <w:view>Normal</w:view> <w:zoom>0</w:zoom> <w:donotoptimizeforbrowser /> </w:worddocument> </xml><![endif]—> <!— /* Style Definitions */ p.MsoNormal, li.MsoNormal, div.MsoNormal {mso-style-parent:""; margin:0in; margin-bottom:.0001pt; mso-pagination:widow-orphan; font-size:12.0pt; font-family:"Times New Roman"; mso-fareast-font-family:"Times New Roman";} @page Section1 {size:8.5in 11.0in; margin:1.0in 1.25in 1.0in 1.25in; mso-header-margin:.5in; mso-footer-margin:.5in; mso-paper-source:0;} div.Section1 {page:Section1;}—> I must be doing something wrong, the size is right and images are perfect but it comes out like that in book smart
Any chance you could repost this without all the formatting controls, I'm finding it just too hard to read?
.........Tony
I think (without all the formatting jargon) is says:

"I used In Design, then I flat the images and the text in Photoshop so it's all 1 image. When I drag my (resolution 300 .jpg) pages in to book smart it turns them in to low resolution, example below:

(pictures)

I must be doing something wrong, the size is right and images are perfect but it comes out like that in book smart"
So – in my experience with booksmart, the preview images you see are merely low-res renderings, because if Booksmart showed all your hi-res renderings, imagine how sluggishly the program would respond, especially if you had in excess of 100 odd pages. Booksmart has three sets of duplicates. Your hi-res that you import, lo-res for preview and I think thumbnail ones too. I wouldn't worry too much how they're previewing if you're positive you've loaded in jpg's that are of 300dpi.
Am I right, Tony?
kristie,
1) You are right!
2) You have a ot more patience than I have to unravel the original post, well done!
......Tony
Hi Tony,
Let me get this right.I am doing an index page in Photoshop 13×11 with maybe 20 or so 1×1.57 images with small font size (6 point) for the captions. I am saving at 300dpi and importing into the book.I get ragged type ,but the pics are ok.I tried to convert to a png. and got the same thing in preview.
From the last post I gather this will not show up in the final using my technique .Should I be using crisp type setting in PS? Thanks,Steve
Hello all. I am suffering the same exact problem with a cover I created in Photoshop CS4. There is no Blurb cover style offered that works for my cover so I've created a simple centered photo on black background. The size is 3955×3342 @ 300dpi. The image looks perfect in PS. When I import it into Blurb it goes totally low res, like way lower than 72. I've tried JPG and PNG.
I understand that Blurb shows a low res version in preview but all of the other images in the book look much better with no noticable trace of low res.
Someone please confirm that t ha book will print fine….
Regarding Text: It seems to me that no matter what the resolution a jpeg is, it's not going to produce crisp text. Images, yes; text, I don't believe so. I would like to think otherwise and may be totally wrong. For me, If the jpeg file, once imported into BookSmart looks fuzzy there, than I won't use it.
I may be completely wrong here but I would hate to go all the way to print and have it come back as fuzzy text.
Howdy folks,
PNGs are better for text-as-image; JPGs tend to introduce artifacts. Either file format might struggle a bit with such a "fragile" font, as characters only several pixels thick suffer more when rasterized. For optimum custom raster text you may want to use a heftier typeface.
Also, please note that BookSmart simply shows you a representation of the image. Too much processing power would be used if each image were displayed at maximum resolution all the time. So after trying a thicker font in a PNG file format and replacing the images in BookSmart, don't be overly concerned with whether your custom text looks a bit rough in the program. The final result won't be quite as sharp as vector text actually typed into BookSmart, but it should look fairly clean and legible.
Cheers!
Jeremy